Buying gifts for your girl friend is a huge task for most of the boys. Many times boys know what item they want to gift, however, the selection process makes them go bonkers and they settle for some usual, mundane and unromantic gifts. Girls love to dress up. They will be absolutely delighted to receive a dress, fashionable shoes or evening bags as gifts. Dresses and shoes are a little tricky and are best avoided, until and unless your girl is with you while you are shopping for her.
This is because you can never expect or analyse your girl's taste in dresses and you cannot be sure of her shoe size. All girls have a craze to collect trendy evening bags, thus they are a perfect choice of gift for your girl. Like dresses, jewellery, shoes and other accessories for girls, even bags come with a plethora of options.
They are available in various shapes, designs, materials and patterns, making it equally tough for guys to take their pick. However, with few simple guidelines and tips the task of choosing one perfect bag out of several trendy evening bags can be made fairly easy. Following are few simple steps that can greatly help you choose the perfect Evening bag to gift your girl on her birthday, anniversary, or Valentine's Day:
Step 1: Foremost thing to do is decide a budget for your gift. Usually college goers and teenyboppers struggle with the finance part. So break all your piggy banks, search all your jeans' pockets and take loans from as many friends as you can, reduce your beer consumption for a month to come up with a decent amount for her bag.When the budget will be set it will make it easier for you to shop otherwise it limits down your choices.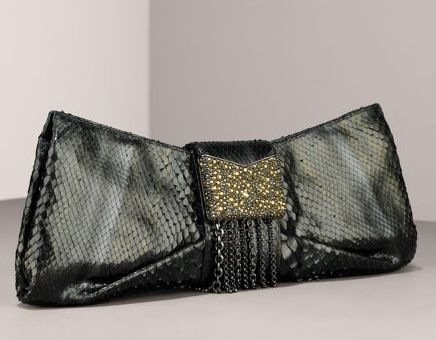 Step 2: Now try to observe her general wardrobe for at least a month. If required keep a diary. Observe the general colours and tones she wears.
Step 3: Observe her bag wardrobe. Try to figure out whether she likes tote bags, shoulder bags or bags with handles. What size she prefers? Does she like small sized bag or big sized bag and you may also like to figure out the amount of stuff she usually carries along. This observation will help you a lot in your selection process.
Step 4: Now one of the most critical parts is to decide whether to buy an expensive designer label bag or a trendy normal bag from any store? If your girl is a fashionista and crazy about designer labels then you better buy her a designer bag or else she will not think of your gift in high esteem. If she is not someone to go only according to the designer tag attached to the gift then you can safely settle for a normal label bag.
Step 5: Choose the bag according to the colour that goes with most of her dresses, a moderate size and a design that suits her personality.
See your girl proudly display your gift amongst her envious friends!