For the super stars and other celebrities, all kinds of designer handbags are of great necessity. Served as an important accessory, they need it to complement their gorgeous appearance. And they have sufficient money to afford these bags. But for most fashion fans who can not afford all expensive items, we may just choose one or two versatile handbags which can go for several years. Evening bag would not belong to their selection. Some of them just view the evening bags through the window to release my purchase desire.
Nevertheless I hold totally different opinion. Evening bags make their own fashion statements. Every woman needs a beautiful evening bag to compliment her perfect party dress or elegant gown. And in fact we have a lot opportunity to carry the bag, such as Christmas party, anniversary ball, Valentine's Day, bridal day, birthday party and so on.
Every season the top fashion houses come up with their new evening bags. The Pop Night Metal Frame Evening Bag from Gucci fall collection greatly impresses me due to its cuteness and uniqueness. This bag features black satin with black/grey paillettes and the ruthenium hardware harmoniously matches with black stain. The distinctive embroidered paillettes make it standing out other bags.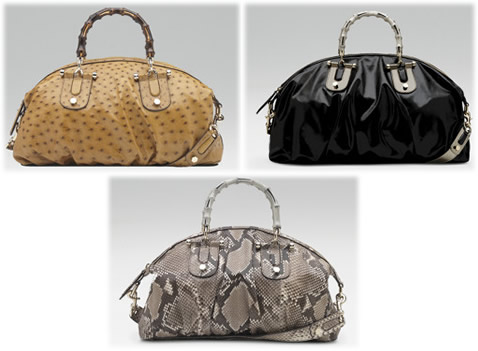 With the measurement of 14 x 4.5 x 9 cm, it is the ideal sized evening bag that would fit all of your night-out essentials, including make-up, keys, purse and mobile. The designer clearly understands what women want. A detachable chain strap enables you to either carry the bag in your hand or on the shoulder. Moreover, a push lock closure ensures its safety. And its originality is ensured by the engraved Gucci script log.
With such an elegant evening bag, you will definitely dress up any style. Thanks to its colors and design, it can keep you in style for seasons to come. Priced at ï¿¡800, this Gucci Pop Night Metal Frame Evening Bag is indeed a worthwhile investment