There are exciting new trends in shoe accessories for the summer of 2008. Moreover, you will see a glut of attractive shoe designs at affordable high st. prices.
Here are some examples of shoe accessories you might find when shopping. Start by choosing Gladiator sandals or platform shoes with Grecian ankle straps. Alternatively, buy designer look, cut out wedge heels, vivid bold brightly coloured shoes or floral, patterned and animal print footwear. You could also choose from contrast piped shoes, two tone heels and toe caps, suede, patent and laser cut out lace leather pumps. Or, put on the glitz and opt for jewel gemstone stud effects and colourful bead button fastenings.
For summer 2008 the high street shoe shops have a treat in store for women as they add their latest shoe fashion trends. Look for outrageous heights in heels, interesting wedge styles and eye popping shots of colour. To sum up - there is shoe fashion trend choice, and more choice, with classic styles, lower heels, and absolute flats.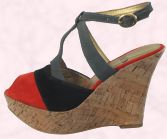 These three shoe accessories are just a sample of the many designs available for Spring and Summer 2008.
Above Left - Shoe 1 - Red Herring Gladiator Sandal - £25 - Debenhams Spring/Summer 2008 Women's Accessories.
Above Right - Shoe 2 - TRIBE Range - Stud ankle strap style Lante £60 - Faith Footwear.
Bottom Right - Shoe 3 - Faith Footwear - Style 'Holdin' Wedge in red/black/grey/cork - £55.
See more Gladiator sandal and boot trends on this page.
In summer 2008 shoes of any style, any heel shape, from curving stiletto, solid cone, wedge, or ultra flat are equally acceptable. The selection of available flat or low footwear is good. Of course you can always buy your shoes online if you are fully aware of your sizing in a particular brand. Check the online store size guide to ensure you understand their sizing and find out if it is using British, Continental or American measurements.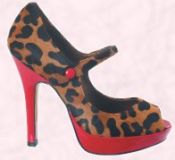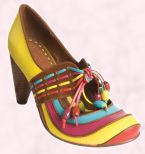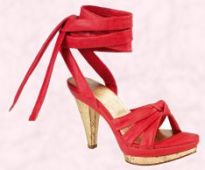 Left to right:- Shoes 4, 5, 6 - Details below
Left - Shoe 4 - Clat platform animal print shoes with red heel and red platform sole - £70 Faith Footwear.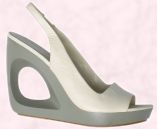 Centre - Shoe 5 - A show stopper Mary Jane shoe - Nanny's Treasure - £60 from Office Ladies Collection for Spring 2008.
Right - Shoe 6 - Shelly's Joanne red high sandal at £45 from Shelly's Spring/Summer 2008 range.
More novel styles are now a norm in UK high street ranges, like Faith footwear, who have designer led selections that are hot on trend. They sell for example, a designer range of shoes with complex styling and currently have some great wedges with cut out heels. Until recent times, only exclusive high end designer footwear brands stocked such to die for shoe temptations. Right - Shoe 7 - 'Nine West' white wedge with cut out heel available from John Lewis.
You are reading an original independent 'shoe accessories' article by Pauline Weston Thomas at www.fashion-era.com ©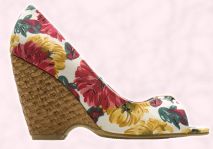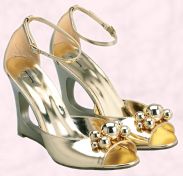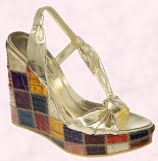 Left to right:- Shoes 8, 9, 10 - Details below
Wedge and chunky cone heels demand attention. Printed pattern footwear whether it be stripes, florals or patchwork is often set against raffia wedges, wooden, or Perspex heels. Gold, silver and bronze footwear is now mainstream, even for daywear. Shoe 8 centre above, is also available in silver.
Left - Shoe 8 - Basket weave raffia floral wedge shoe £10. In store beginning of April - Primark Summer Collection 2008.
Centre - Shoe 9 - J Jeans by Jasper Conran shoes £40/€62 Debenhams Spring/Summer 2008 Women's Accessories
Right - Shoe 10 - Patchwork wedge shoe Cuba, £135/€195 from Spring/Summer 2008 - Dune Ladies & Accessories.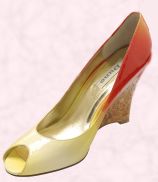 ~
Pattern and print are not the only interesting aspects of fashion trends in modern shoes. Taking a cue from the catwalk, shoe manufacturers have introduced some lively ombre and tie dye effect shoes.
Far Right - Shoe 11 - Ombre dye patent yellow and coral shoe - Spring/Summer 2008 - Dune Ladies Accessories.
It feels as if 'It shoes' have at last really arrived on the high street.
This is not surprising, since retailers who have survived the pace of fast fashion changes have had to adapt to fresh ideas and produce designer led footwear styles.
Dolcis, the UK high st. shoes and bags chain, disregarded the change in consumer habits for must-have desires and so lagged behind general fast fashion retailers. In January 2008, it found itself in administration and since then a deal was reached where the Dolcis shoe brand name has been sold on to another footwear retailer. A year or so ago the same fate happened to the famous Stead and Simpson brand.
In the past 25 years the general clothing retailers have slowly all introduced footwear. These clothing fashion retailers have eaten into the traditional shoe shop market of yesteryear. Now a high proportion of UK footwear is sold through clothing chains like New Look who pander to both a mass acceptable price point and a high fashion look. The demand for footwear has not fallen, but the demand for high fashion inexpensive footwear has increased.
You are reading an original independent 'shoe accessories' article by Pauline Weston Thomas at www.fashion-era.com ©
Just like all the brightly coloured bags in a store near you now, brightly colours for shoes and sandals are prominent in every footwear range. Bright colour can also be patterned.


This high end designer Dolce&Gabbana patchwork shoe (Style 12), near right, features some of the main fashion colours for spring 2008 and utilise orchid pink and crocus tones. The high street alternative includes these Aegean blue patchwork style shoes (Style 13) from the New Look Spring Summer 2008 Accessories & Footwear range.
New Look is one of the major sellers of footwear in the UK, with most shoes being sold for under £30. A change of shoe lace to black, might make these blue shoes look even more similar to the Dolce&Gabbana designer version.
The blue shoe boots are not a precise copy, but a great look-alike pair of shoes that have picked up on what might become a major shoe fashion trend.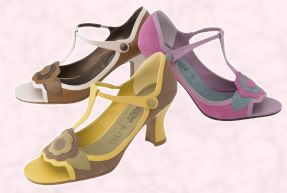 The colours for spring and summer 2008 are bold and strong even in sedate styles. Orchid pink, yellow, and red footwear is readily available in many styles. Right - Shoe group 14 - New Look Footwear
Strong contrasts in a shoe mean that black is important when teamed with white for monochrome looks. This can be just a simple piped, white edge to a black shoe, or a more vivid op art look as shown below.
Contrasts also lead to multi use of piped edges and trimmings in every type of footwear. This mixed selection of T-bar style shoes (group 14) above right is from New Look. Each shoe has three contrast tones to achieve what appears to be a complex design colouration with a 1960s floral finishing touch.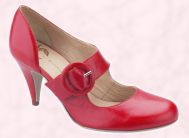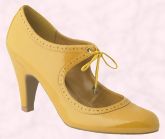 Like the Mary Jane style the T-bar shoe is very safe looking until its vamped up with a fancy buckle, lacing or wider band ankle strap, which can almost move it toward the more exotic.
Both the red patent Mary Jane shoe (15) left, and this yellow shoe look retro, yet very modern. Each has a heel many women will find manageable and the strap adds extra walking security. Shoes with bar straps are ideal for women who need a half size, yet find that mass manufacturing of less costly lines means that half sizes are less available. Sizing up often means one shoe is over sized. With an extra cushion inner and an adjustable strap those with unevenly sized feet may find shoes that work for them. You are reading an original independent 'shoe accessory' article by Pauline Weston Thomas at www.fashion-era.com ©
Left - Shoe 15 - Red Mary Jane shoe £44.99/ €75.50 - River Island Clothing Co. Ltd., Womenswear Footwear SS08
Near Right - Shoe 16 -Yellow lace tie Mary Jane shoe £44.99/€75.50 - River Island Clothing Co. Ltd.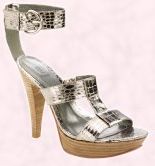 This T-bar silver impressed skin sandal with wide ankle strap looks ready to party all night long.
Right - Shoe 17 - Silver T-bar, Éclair, ankle strap platform sandal from Barratts.
Stemming from the Gladiator/Warrior footwear shown on another page, are the ankle strap wraps that take many shoes a step further toward fetish footwear trends. This has created a range of high st. shoes heavy with wrap around ankle straps, excessive ties, narrow or wide dog collar ankle bands.
Some of the ankle bands are heavily decorated with studs as in the header or are Swarovski CRYSTALLIZED.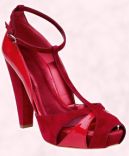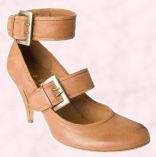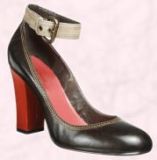 Left to right:- Shoes 18,19, 20 - Details below
Left - Shoe 18 - Marks and Spencers ankle strap red shoe in mixed materials - £15.
Centre - Shoe 19 - Double strap shoe £60 and called Never Mind - Spring 2008 Office Ladies Collection by Office.
Far Right - Shoe 20- Ankle strap black colour block shoe £45/€64 Women's Footwear Spring/Summer 2008 at NEXT.
Bright colour is clearly a strong fashion trend in shoes for this Summer 2008. Red, yellow, orchid pink, purple, green and blue are used through every range. The peep toe is also an element of summer footwear and these examples illustrate wearable shoes rather than shoes destined for posing only. Peep toes also give the girls a chance to show off their new pedicure. If you like to wear tights but want to show your toes then an alternative is to buy the open toe summer tights sold at Marks and Spencer.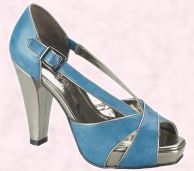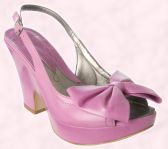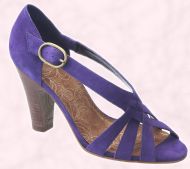 Left to right:- Shoes 21, 22, 23 - Details below
Left - Shoe 21 - River Island True Blue Range - River Island Spring Summer Accessories 2008
Centre - Shoe 22 -Post Mistress Weather Girl £85 - Spring 2008 Office Ladies Collection from Office
Far Right - Shoe 23 - Purple shoe £44.99/ €75.50 River Island Clothing Co. Ltd., Summer Footwear 2008
Finally these last two shoes are designed for tall women and so go to longer foot lengths. I love the pale pink flat shoe which is perfect for summer. The green wedge shoe is on trend without adding too many inches to a woman who is aware of her height. Lastly the sandal has not so much a Gladiator/Warrior feel, but more of an exotic Cleopatra touch.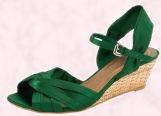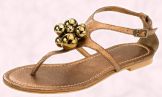 Left to right:- Shoes 24, 25, 26 - Details below
Left - Shoe 24 - Pastel pink jewelled slingback, £49 from Long Tall Sally Spring 20 08 Shoes and Accessories
Centre - Shoe 25 - Shelly's Spring/Summer 2008 - Green wedge sandal called Brandy - £50 Shellys Shoes.
Right - Shoe 26 - Tan bronze Gladiator sandal with beads from Barratts.